How to Measure the Value of an RBI Program – Refiners, Petrochemical and Chemical Manufacturers have documented significant value following the implementation of an RBI program.

How do you measure success?
Perhaps the most impressive measures of success as reported from a number of refining and chemical manufacturers are the value from two related yet completely decoupled measurements: risk reduction and recordable incidents.
This 60-minute lunch and learn will take you through actual case studies where the measured value of these two items alone exceeded hundreds of millions USD in just a few years while recordable incidents dropped as much as 87 percent following the year the RBI program was completed. We will also provide you a scorecard and template for calculating your own value proposition for implementing an RBI program at your site or enterprise. In addition, we will show you the steps in preparing the value contribution from your asset integrity program to meet your corporate goal for return on net assets.
Other reported benefits include:
Increased uptime and less production losses due to fewer internal inspections and relief device tests
Nearly $5 million inspection labor saved during RBI implementation
Ongoing inspection labor savings of $1 million per year
The financial benefits by way of risk reduction for the refinery for the FCC block, over a ten year period, was estimated to be $13,510,000. Risk reduction is expected to improve uptime by 0.5 - 1% and reduce high potential incidents
Less incidents and releases that can affect your employees and our neighbors = less money spent on clean-up, remediation, and health related costs due to exposures and litigation
Increased Operational Asset Utilization (OAU) for the site = lower lost production cost due to leaks and/or releases
Lowered reactive maintenance cost = less reactive jobs, less specialized outside contractors (i.e. Team Inc., etc.), and less support activities (i.e. scaffolding, stress relief, etc.)
Helped reduce the HPIs by over 60 percent: "Fifty-eight HPIs were recorded in the 5 years (1997-2001) prior to 2002 implementation. Fourteen (14) HPIs have been recorded between 2003 and 2006 (after the program was in place). On average it looks like the RBI Program has helped reduce the HPIs by over 60%," RMC-07-96 Assessing the Value Creation of RBI John Aller Lloyd's Register Capstone; Karen Maxson, DuPont Engineering Reliability and Maintenance Conference and Exhibition May 22-25, 2007 George R. Brown Convention Center, Houston, TX
Significant improvements in reliability lead to a measured 96.7 percent asset mechanical reliability
Fostering a sense of "Proud Ownership" by all the employees because they know that the facility is taking reasonable and required steps to ensure their safety and the safety of the community by ensuring that the equipment used in the process is fit for service today as well as tomorrow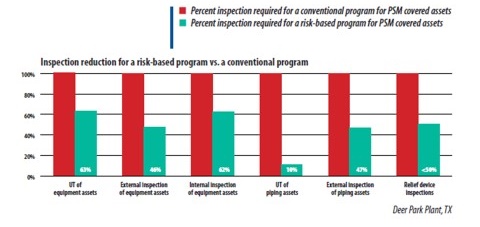 Storage Tank RBI
How many RBI studies have been completed on above ground storage tanks (ASTs)? We have completed hundreds.